Learn more about our cast & crew: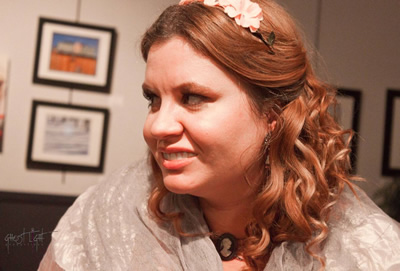 Heidi DuSoleil, Katie Garrison, Paul Gregory, Sandy Beeler, Ryan Christensen, Stuart Hobbs, D.J. McCoy, Tan Li, Derek Burwell, Kate Rhoswen, Lane Elizabeth, Meghan Micheli, Caleb Tapia, Albert Harmer, Nick Heguy, Emily Anderson, Josh Webster, Sydney Tschida, Kodi Beth Goddard, Wendy Ramirez, Michael Bail, John Wright, Erika Patrick, Toril Lea Hansen, Becky Brown, Jennifer Anderson, Caleb Micheli, Kyle Ashley, Don Jones, Colin Mclean, and John Wells. Learn more here...
DEREK BURWELL
Derek Burwell has had the pleasure of working with various community theater projects for the last 18 years. Highlighted roles have been Mercutio in Romeo and Juliet, Leslie in Love, Sex, and the IRS, Puck in Bard in the Yard, and Roma in Glengarry Glen Ross. Mr. Burwell has recently been seen in GLP's The Odd Couple as Felix, Agador in The Birdcage, The Rocky Horror Picture Show as Frankenfurter, Poe & Pints, and Silver Stage Players' Bard in the Yard 4. He appreciates theater for the opportunity to examine this great experiment of life from different angles, and best of all gets to share what he finds with others. When not enjoying a romp through the lands of make believe, Derek tortures dirt for a living at a local mine.
KODI GODDARD
Kodi is a battle born Elko-raised actress. She has been involved in the Elko theater community for multiple years. Her experience includes select productions such as: A Midsummer Night's Dream, A Little House Christmas, Camelot, I Did It for Love, As You Like It, Our Town, White Christmas, On the Razzle, Psycho Beach Party, and The Rocky Horror Picture Show. Her favorite roles thus far have been Morgan le Fay in Camelot and Marvel Ann in Psycho Beach Party. While Kodi's passion lies with acting, she is also an experienced stage makeup artist, and has been costume mistress and stage manager for A Little House Christmas, As You Like It, and White Christmas. She is excited to be continuing to work with Ghost Light Productions, and hopes to help showcase the local talent that Elko has to offer.
D.J. MCCOY
D. J. McCoy has been a supporter of the arts for his whole life. He has a passion for making people smile. He made his debut with Ghostlight Productions in 2017 with The Birdcage. His credits include Senator Keeley in The Birdcage, the king of the surfer as The Great Kanaka in GLP's production of Psycho Beach Party. The Criminologist in GLP's production of The Rocky Horror Picture Show (floorshow). He is honored to be part of Poe & Pints this year. He looks forward to entertaining crowds for many years to come.
SANDY BEELER
After fighting crime as a masked superhero and helping to start the punk movement in the late 70's, Sandy retired and was reborn in the 80's. Growing up on the streets as a stray dog she morphed into her human form as we know today to move on to such projects as the "Where's the Beef" grandma we knew and loved in the 90's. After the beef was nowhere to be found, she decided to wander the desert in search of new endeavors. After a brief stint as a test subject at Area 51 (don't ask her about her tail) she wagged her way into Elko. She set up camp and decided to make her way to the stage. After having a small part in The Trial of Ebenezer Scrooge and playing "Audrey" in Little Shop of Horrors, she wanted to try her hand at the classics. And her adventures continue. Her resume features more recent shows including Bard in the Yard II and III, Steel Magnolias, Poe & Pints, The Last US Mail Stage Robbery, The Shape of Things, Psycho Beach Party, and The Rocky Horror Picture Show.
RYAN CHRISTENSEN
Ryan first made his way onstage during the Elko Theatre Coalition's One Act Festival in 2016. Since then, he has appeared in ETC's production of As You Like It, made his GLP debut in The Birdcage, and had roles in GLP's Psycho Beach Party as Yo-Yo and The Rocky Horror Picture Show as Riff Raff. Ryan joins the Poe & Pints project for the first time.
LANE ELIZABETH
Lane has been performing in improvisational theater since the age of 15, when she began as a street performer at the Arizona Renaissance Festival. After 8 seasons with ARF, she began focusing on educational performance at institutions such as the Arizona Science Center and the California Trail Interpretive Center, specializing in interactive demonstrations for children. Her first introduction to staged theater came from the Northland Pioneer College theater program in 2004, which ignited her passion for the stage. Since moving to Elko in 2012, she has performed, directed and done technical work for Great Basin College, Silver Stage Players, and the Elko Theater Coalition. She is a lifelong fan of Edgar Allan Poe, and other late victorian poetry. This is her fourth time working with Ghost Light Productions. Lane makes her Poe & Pints debut in 2017!
PAUL GREGORY
Paul Gregory is a lifelong Elkoan who has been involved with the theatre since high school. He has been active with Ghost Light Productions since its inception. He is also a freelance photographer, graphic designer, videographer, woodworker, and musician. Past roles include Eugene in Welcome to Rex's!, the Queen of Hearts in Alice in Wonderland, the Poe & Pints project, Oscar Madison in The Odd Couple, As You Like It, The Rocky Horror Picture Show, and multiple roles in Ghost Light Productions' One-act Festival. Mr. Gregory directed this past spring's GLP production of The Birdcage.
HEIDI DUSOLEIL
Heidi DuSoleil has been performing in the theater of her mind all her life. Her official stage debut was when she was 8, and she has been in love with acting ever since. Her recent credits include: Poe & Pints III, White Christmas, From Broadway With Love, and Bard in the Yard IV.
ALBERT HARMER
Albert has been a part of the theatre community for just about a year now. He has performed in the Elko Theatre Coalition's One Act Festival, As You Like It, Silver Stage Players' Bard in the Yard 4, and Ghost Light Productions' The Birdcage. As a member of GLP he has also participated in their improv activities downtown during the monthly wine-walks. Albert makes his Poe & Pints debut this year!
EMILY ANDERSON
Emily Anderson, has been interested in the theatre from a young age. She continues to act, direct and write for her passion. She graduated from UNR with a BFA in performance theatre. While in Reno, Emily worked her way through college in the costume shop. She was inducted as an Officer into Alpha Psi Omega (the National Theatre Franternity), and received multiple theatre scholarships during this time. She believes that in order to be good theatre artist, one must have an understanding and respect for both the acting and technical side of theatre. Ghost Light Productions was founded on this belief. After Reno, Emily traveled to Las Vegas where she worked for the nation's most recognized children's theatre group: The Rainbow Company for 4 years. While there, Emily taught acting classes, taught children how to sew and construct set, and taught the basic principles and understandings of the theatre. She won the Children's Theatre Medallion of America and was inducted into the UNLV Artistic Hall of Fame during this time. (The Rainbow Company) Emily believes in presenting quality theatre that can be both original, innovative, and can provide a home for the people or children who seemingly may have nowhere else to fit in. She is excited to watch the company grow.
MEGHAN MICHELLI
Meghan Micheli made her Elko debut with Silver Stage Players in Bard in the Yard: Battle of the Sexes. The homegrown Texas native has been on a stage since the age of 6, playing in various roles from a British, Tea-Drinking Dragon to a mother during the Spanish Revolution. Some favored local roles the actress has undertaken include Magenta in The Rocky Horror Picture Show: Floorshow, Fantine from Les Misérables, and an oh-so devious Grandmother from last season's Poe and Pints: The Spectacles. By day, you can find her interacting at The Elko Area Chamber with various businesses, but, by night (when she's not playing on a stage or appreciating the arts in her local community), she can be found with her husband, Caleb, charting upcoming travel adventures…or just reading a book.
STUART HOBBS
Stuart Hobbs only recently stepped onto the stage but he has been in our audiences for years. He first auditioned for Ghost Light's production of The Birdcage, landing the role of Drag Queen Dancer #1 and discovered he's a a natural in heels! This was also the first show where he assisted with backstage Tech. He played bad-boy surf bum and aspiring playwright Provoloney for Psycho Beach Party. He was most recently seen in Silver Stage Players' production of Bard in the Yard 4. He's been thrilled to work alongside such talent and is excited to continue. Mr. Hobbs makes his Poe & Pints debut in 2017!
DONALD JONES
Donald has been in the Elko area since 1995. His first show was in 1998, playing Neville Landless in The Mystery of Edwin Drood with SSP. In 2005, Donald played Conrade and created the set for Much Ado About Nothing. He has been involved, as an actor or technician, in almost all of the SSP shows since then. Among others, stage manager for the children's theatre production of Land of the Dragon, played the Priest in The Man of La Mancha, technical director in Ghost Light Productions' Poe & Pints, set design for Glengarry Glen Ross, and participating in Bard in the Yard. Mr. Jones has directed such shows as The Legend of Sleepy Hollow, The Princess and the Enchanted Swans, and The Pirates of Penzance.
TAN LI
First indoctrinated into the Elko chapter of the New Society of Theatre in January of 2016, Tan has yet to escape.
ERIKA PATRICK
Erika grew up in Henderson, Nevada and moved to Elko in 1998. After enrolling at GBC, she made her stage debut in the 1998 GBC production of A Midsummer Night's Dream. She has been in other GBC productions, including A Funny Thing Happened on the Way to the Forum, The Trial of Ebenezer Scrooge, and Urinetown. In 2004, she joined SSP in the production of Shakespeare's Much Ado About Nothing. Erika's other credits include Lysistrata, Bringing it All Back Home, Bard in the Yard, Poe & Pints, and The Pirates of Penzance. Ms. Patrick has directed shows including The Odd Couple, and The Last U.S. Mail Stage Robbery. Erika is a past SSP Chairman and longtime Elko volunteer. She serves as a technician for this year's GLP Poe & Pints.
KATE RHOSWEN
An EHS alumni, she has spent the past 11 years performing in professional and regional theatre, and independent film. Select theatre credits: Romeo & Juliet, Twelfth Night, The Comedy of Errors, Two Gentlemen of Verona (Lake Tahoe Shakespeare festival); Shiner, King Lear, The Nether, Evil Dead: The Musical, Clown Bar, The House of Yes, The 5th Wind*, The Importance of Being Earnest (Good Luck Macbeth Theatre Co.); A Midsummer Night's Dream, Much Ado About Nothing, Ubu the King, The Charm of Preparedness (Nevada Repertory Company); Macbeth, Bloody Bloody Andrew Jackson, Wonder of the World, Compleat Female Stage Beauty (Brüka Theatre of the Sierra); Cahoots, Talking With (Theatreworks of Northern Nevada); Love Song (Reno Little Theatre); Mattress of the Heart* (Potentialist Workshop). Kate is a member of the Actor's Equity Association Membership Candidate program. * World premier productions by Elko-born playwright Marvin Gonzalez. Kate was most recently seen in Ghost Light Productions' Psycho Beach Party, Silver Stage Players' Bard in the Yard 4 and joins GLP's Poe & Pints for the first time.
CALEB TAPIA
Caleb Tapia has been an active member of the theatre community since 2011 with the first installment of Bard in the Yard and hasn't been able to get enough. He's been in numerous performances including Poe & Pints, each Bard in the Yard, and so much more. Caleb has been an active Board member for Ghost Light Productions since December 2015 as their Educational Outreach director. He teaches children's theatre, hosts theatre workshops, and even assistant directed As You Like It in the summer of 2016. Caleb was most recently seen in Ghost Light Productions' spring production of Psycho Beach Party, and hosting GLP's The Rocky Horror Picture Show!
SYDNEY TSCHIDA
Sydney returns to the stage after making her Ghost Light Productions' debut in last year's Poe & Pints in the role of one of the demons from The Music of Ericha Zann. Sydney's mom is costume designer Ms. Wendy Ramirez.
KYLE ASHLEY
My name is Kyle Ashley, I'm 22 years old and I'm extremely new to theater. While I have had an interest in it, I've not actually had a chance to partake in any way. I saw Bard in the Yard 3, and really enjoyed it. I work as a computer tech so I'm around technical issues all day and like working with electronics. I've never dealt much with theater tech, lighting, sound, ect., but I can probably pick it up quick and hopefully be of some use. I'm currently in school, and at the moment it's for computer sciences, but I'm a little on the fence about that. I do have a really flexible schedule though, to a reasonable extent. I'm extremely happy that I am able to be a part of this wonderful group of people and hope that I can be of help now and in the future.
TORIL HANSEN
Toril Hansen graduated from Great Basin College in 2016 with an Associates of Art and plans to attend Rocky Mountain College of Art and Design to earn a Bachelor of Fine Arts with an emphasis in Illustration. Her love of art started at a young age and has continued to grow since. In 2012 she won a Scholastic Art Gold Key Award, as well as a Scholastic Art Silver Key Award. She also won a Scholastic Art Silver Key Award in 2013. She has taught family art classes in the community and participated in creating murals in town. Toril has provided art for several shows including Poe & Pints 2, Bard in the Yard 3, and As You Like It.
MORE COMING SOON!
For Information and All the Dish
For more information on how to attend Poe & Pints or how to become a sponsor, call Director/Project Manager Frank L. Sawyer at (775) 934-3721 e-mail him at flsawyer@designlunacy.com or information@poeandpints.org. More information can be found at www.poeandpints.org or www.ghostlightproductionsnevada.com.
#ghostlightproductions #findingpoe #theatrelife #poeandpints
"Quoth the Raven...Nevermore!"