Poe & Pints 2018: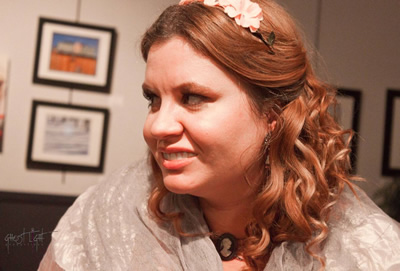 Winners of the 2017 Elko Daily Free Press Reader's Choice Bronze Award for "Best Annual Event", Poe & Pints returns as the "must-do" event of the Fall!
Duncan LittleCreek Gallery and Ghost Light Productions host three nights of craft beer tasting and performances of dramatized works of Edgar Allan Poe October 4, 5, and 6 beginning at 7 PM at the DLC. Tickets for the wildly popular event go on sale August 24 and are just $30 per person. Tickets will be available at the Elko Chamber of Commerce or by calling (775) 934-3721 and include four tasting flights, background on the beverage selections, customized pint glass, and soda for our non-alcohol drinking guests. Seating is limited for what the Free Press called, "an evening of refreshingly original entertainment."
It's our fifth anniversary and we want you to help celebrate with us in 2018!
Long since departed, melancholy, and dark storyteller, Edgar Allan Poe will welcome guests and audience participation is encouraged. Literary selections featured during past Poe & Pints have included The Oval Portrait, Dream Within a Dream, The Raven, Masque of the Red Death, Alone, The Cask of Amontillado, The Music of Erich Zann by H. P. Lovecraft, and Josh Webster's Good Spirits among others. This year we are excited to feature American writer Charlotte Perkins Gilman's The Yellow Wallpaper as 2018's non-Poe piece! Funds raised during Poe & Pints help support GLP's commitment to youth and adult theater programming, instruction, education, and events.
Sponsoring Poe & Pints In 2018 so far are Duncan LittleCreek Gallery, Ghost Light Productions, Thomas Scott Foundation, Patrick/Sawyer/Wright Families, Christian Center of Elko, Lynne Owens, Matthew H. Lipparelli O.D. Optometrist, Katie Miner and Stick With Us Amusements, and Stuart Hobbs, among others!
Directing Poe & Pints for 2018 are local artists and community volunteers Derek Burwell and Frank L. Sawyer. Frank first conceived of the project in 2014. Said Sawyer, "I have always been a Poe fan so I wanted to create an unique event for the community." Working with DLC Managing Partner Jennifer Anderson, and local artists John Wright, Derek Burwell, and Erika Patrick, the team developed the details of the project. Frank has directed such shows as The Last U.S. Mail Stage Robbery, Bard in the Yard, Poe & Pints, Glengarry Glen Ross, Much Ado About Nothing, Lysistrata, The War of the Worlds, The Zoo Story, Talk Radio, and Bringing it All Back Home among others. Mr. Burwell makes his directorial debut for Ghost Light Productions in Poe & Pints. Derek has appeared in dozens of local productions including The Rocky Horror Picture Show, The Tempest, The Odd Couple, Bard in the Yard, Love Sex and the I.R.S., Poe & Pints, Glengarry Glen Ross, Bringing it All Back Home, and Much Ado About Nothing among others.
For more information on how to attend Poe & Pints or how to become a sponsor, call Co-Director/Project Manager Frank L. Sawyer at (775) 934-3721 e-mail him at flsawyer@designlunacy.com or information@poeandpints.org. More information can be found at www.poeandpints.org or www.ghostlightproductionsnevada.com.
Our Author and Poet
Boston-born in 1809, Edgar Allan Poe may have been the nation's first famous writer and poet. Poe wrote eerie, grim, and cryptic tales exemplified in his 1839 short story The Fall of the House of Usher, the 1843 short story The Tell-Tale Heart, and his immediately successful 1845 poem, The Raven. Poe was one of the earliest authors of the short story, considered the inventor of detective fiction, and served as an important contributor to the new genres of horror and science fiction. Poe's death, at the age of 40, in Baltimore on October 7, 1849, is stoked with mystery. He vanished on his way home and was later discovered in a delusional state, muttering nonsense, and wearing clothing that was most likely not his own. Poe continues to influence literature and pop-culture around the world even today.
Our Guest Author
Charlotte Perkins Gilman also Charlotte Perkins Stetson (July 3, 1860 – August 17, 1935), was a prominent American feminist, sociologist, novelist, writer of short stories, poetry, and nonfiction, and a lecturer for social reform. She was a utopian feminist and served as a role model for future generations of feminists because of her unorthodox concepts and lifestyle. Her best remembered work today is her semi-autobiographical short story The Yellow Wallpaper, which she wrote after a severe bout of postpartum psychosis..
Our Breweries
To Be Announced
Our Volunteers
Lane Elizabeth Dolberg, Dusty Barker, Amber Adeline, Albert W. Harmer, Paul Gregory, Dawn Rowley, Scottie Glennon, Kate Rhoswen, Meghan Micheli, Dianna DuSoleil, Derek Burwell, Caleb Tapia, Sandy Beeler, Tan Li, Nick Heguy, Emily Anderson, Josh Webster, Sydney Tschida, Wendy Lloyd, John Wright, Erika Patrick, Toril Lea Hansen, Jennifer Anderson, Frank L. Sawyer, April Moore, Don Jones, and John Wells. Learn more here...
Our Theatre Company
Ghost Light Productions is a non-profit theatre company located in Elko, Nevada and a recipient of the 2015 Mayor's Art Award for best Artistic Company! We believe that performance art is an essential part of the human experience and a great outlet for creativity and expression. Our youth and adult theatre programming consists of basic performing building blocks, such as imagination, teamwork, and self-confidence. We also focus on the technical side of theatre, such as makeup, costuming, set design, and stage management. We want to provide a positive outlet for local children and adults while making arts opportunities more available in our rural area. Recent GLP events include The Rocky Horror Picture Show, Oddity Art Auction, Psycho Beach Party, The Birdcage, Welcome to Rex's, From Page to Stage One Act Festival, The Odd Couple, Robots vs Aliens Scavenger Hunt, and The Shape of Things, among others.
Our Venue
Located at 516 Commercial Street in Elko, Duncan LittleCreek Gallery and Bar is Elko's premiere art center featuring paintings, jewelry, sculptures, and more. DLC offers a comfortable, smoke-free atmosphere with an extensive list of wine, craft beer, specialty martinis, and cocktails made with the freshest ingredients. DLC has consistently received awards including the Mayor's Arts award for Arts Organization, the Elko Daily Free Press Readers' Choice Awards for Live Entertainment, Bar, and Wine Selection, among others. The Gallery is a favorite destination for locals and area visitors alike. It is a great place to see live music, plays, artist receptions, book parties, weddings, and other occasions. Call (775) 738-3426 for more information or visit their Facebook page for upcoming events.
For Information and All the Dish
For more information on how to attend Poe & Pints or how to become a sponsor, call Co-Director/Project Manager Frank L. Sawyer at (775) 934-3721 e-mail him at flsawyer@designlunacy.com or information@poeandpints.org. More information can be found at www.poeandpints.org or www.ghostlightproductionsnevada.com.
#ghostlightproductions #findingpoe #theatrelife #poeandpints
"Quoth the Raven...Nevermore!"