We want you as our guest: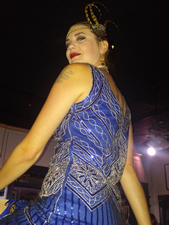 Winners of the 2017 Elko Daily Free Press Reader's Choice Bronze Award for "Best Annual Event", Poe & Pints returns as the "must-do" event of the Fall!
Duncan LittleCreek Gallery and Ghost Light Productions host three nights of craft beer tasting and performances of dramatized works of Edgar Allan Poe October 4, 5, and 6 beginning at 7 PM at the DLC. Tickets for the wildly popular event go on sale August 24 and are just $30 per person. Tickets will be available at the Elko Chamber of Commerce or by calling (775) 934-3721 and include four tasting flights, background on the beverage selections, customized pint glass, and soda for our non-alcohol drinking guests. Seating is limited for what the Free Press called, "an evening of refreshingly original entertainment."
It's our fifth anniversary and we want you to help celebrate with us in 2018!
Long since departed, melancholy, and dark storyteller, Edgar Allan Poe will welcome guests and audience participation is encouraged. Literary selections featured during past Poe & Pints have included The Oval Portrait, Dream Within a Dream, The Raven, Masque of the Red Death, Alone, The Cask of Amontillado, The Music of Erich Zann by H. P. Lovecraft, and Josh Webster's Good Spirits among others. This year we are excited to feature American writer Charlotte Perkins Gilman's The Yellow Wallpaper as 2018's non-Poe piece! Funds raised during Poe & Pints help support GLP's commitment to youth and adult theater programming, instruction, education, and events.
Sponsoring Poe & Pints In 2018 so far are Duncan LittleCreek Gallery, Ghost Light Productions, Thomas Scott Foundation, Patrick/Sawyer/Wright Families, Christian Center of Elko, Lynne Owens, Matthew H. Lipparelli O.D. Optometrist, Katie Miner and Stick With Us Amusements, and Stuart Hobbs, among others!
Directing Poe & Pints for 2018 are local artists and community volunteers Derek Burwell and Frank L. Sawyer. Frank first conceived of the project in 2014. Said Sawyer, "I have always been a Poe fan so I wanted to create an unique event for the community." Working with DLC Managing Partner Jennifer Anderson, and local artists John Wright, Derek Burwell, and Erika Patrick, the team developed the details of the project. Frank has directed such shows as The Last U.S. Mail Stage Robbery, Bard in the Yard, Poe & Pints, Glengarry Glen Ross, Much Ado About Nothing, Lysistrata, The War of the Worlds, The Zoo Story, Talk Radio, and Bringing it All Back Home among others. Mr. Burwell makes his directorial debut for Ghost Light Productions in Poe & Pints. Derek has appeared in dozens of local productions including The Rocky Horror Picture Show, The Tempest, The Odd Couple, Bard in the Yard, Love Sex and the I.R.S., Poe & Pints, Glengarry Glen Ross, Bringing it All Back Home, and Much Ado About Nothing among others.
For more news from us and others, check out the About page!
Follow Us on Twitter
Follow @poeandpints
For Information and All the Dish
For more information on how to attend Poe & Pints or how to become a sponsor, call Co-Director/Project Manager Frank L. Sawyer at (775) 934-3721 e-mail him at flsawyer@designlunacy.com or information@poeandpints.org. More information can be found at www.poeandpints.org or www.ghostlightproductionsnevada.com.
#ghostlightproductions #findingpoe #theatrelife #poeandpints
"Quoth the Raven...Nevermore!"