We want you as our guest: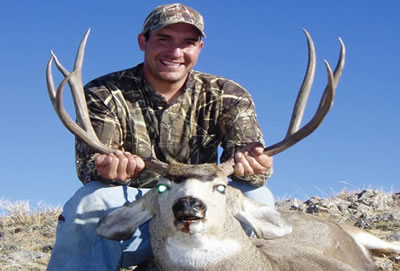 The Mule Deer has large ears (like those of a mule) and tan to reddish brown fur in summer, grayish brown in winter with a white rump patch and a narrow black-tipped tail. It holds its tail down when it runs, unlike its cousin the white-tailed deer.
Antlers, found only on bucks, are bones that begin growing in late winter and will reach full growth by late summer. Developing antlers are covered with a skin-like "velvet" which supplies blood and nutrients to the developing bone. The velvet is shed by early fall and the antlers harden and get somewhat shiny. The antlers have a main trunk that splits into two branches. Each branch or tine (point) is approximately the same length. Typical four point antlers have secondary forks that arise from these branches. Antlers are shed yearly, usually by late December and the growth cycle begins again.
Seasonal movements from higher elevations to lower winter ranges are affected by food supply and ability to move due to temperature and rain or snow conditions.
When startled, a Mule Deer will move in a series of stiff-legged jumps, called "stotting," with all four feet hitting the ground together. This gait offers two advantages: it allows the deer to out-distance predators in rough terrain, and to see above the thick brush. If necessary, they can turn or completely reverse direction in the course of a single bound.
Mule Deer tend to bed down in a cool, secluded places in the middle of the day. They are most active in mornings, evenings and moonlit nights, enabling them to conserve water and keep body temperatures down in desert environments.
-from the Nevada Department of Wildlife
Come as a guest... leave as family... visit often!