Silver Stage Players is Holding Auditions for Poe & Pints!
Auditions for Elko's hottest ticket and event of the year, Poe & Pints, will be held from 6-8 PM at the Christian Center of Elko July 27-28. Auditions will run from 6 - 8 PME. A two-minute prepared audition piece is encouraged. Cold readings will be made available. If you have wanted to try acting, tech, or just see what local theater is all about, now is your chance! For further information please email email us.
It's Our 10th Anniversary! Celebrating the 10th Anniversary of Poe & Pints. Six nights of gothic stories and a curated selection of craft beers. October 5-7 and 12-14, 7 PM at DLC!
Art and culture are things that must be nurtured in our community. The benefits of having a strong sense of the humanities are critical to being able to navigate the future with our humanity intact. Art reflects all aspects of life, and Poe & Pints allows the actors and audience members to safely experience, contemplate, and grow through contact with darker themes and stories. Toying with wish fulfillment, vengeance, and the fear of the unknown help to provide context for such things that may be lurking in any of us. We are only human after all.
Showdates are October 5-7 and 12-14 at the Duncan LittleCreek Gallery. Curtain is at 7 PM with the house being opening beginng at 6:30 PM. Ticket prices are $35 per person. Tickets will be going on sale soon!
Directing Poe & Pints for the third year is Mr. Derek Burwell. Derek has had the pleasure of working with various community theater projects for the last 20 years. Highlighted roles have been "Mercutio" in Romeo and Juliet, "Leslie" in Love, Sex, and the IRS, "Puck" in Bard in the Yard, "Agador" in The Birdcage, and The Rocky Horror Picture Show as "Frankenfurter". Derek has been on the creative ground-floor of several local projects including Bard in the Yard, and Poe & Pints, and has been privileged to work with such organizations as Silver Stage Players, the GBC Theatre, and Ghost Light Productions.

He appreciates theater for the opportunity to examine this great experiment of life from different angles, and best of all gets to share what he finds with others. When not enjoying a romp through the lands of make believe, Derek tortures dirt for a living at a local mine.
He is deeply grateful for the cast and patrons' continued belief in the Poe & Pints Project, and for the trust Frank L. Sawyer has shown by giving him care of the tremendous investment of work, talent, and vision that Frank has poured into the project over the last seven years.
Located at 516 Commercial Street in Elko, Duncan LittleCreek Gallery and Bar is Elko's premiere art center featuring paintings, jewelry, sculptures, and more. DLC offers a comfortable, smoke-free atmosphere with an extensive list of wine, craft beer, specialty martinis, and cocktails made with the freshest ingredients. DLC has consistently received awards including the Mayor's Arts award for Arts Organization, the Elko Daily Free Press Readers' Choice Awards for Live Entertainment, Bar, and Wine Selection, among others. The Gallery is a favorite destination for locals and area visitors alike. It is a great place to see live music, plays, artist receptions, book parties, weddings, and other occasions. Call (775) 738-3426 for more information or visit their Facebook page for upcoming events.
Throughout the week of Poe & Pints' opening, we will be thanking our generous patrons who believe in what we do and continue to support us. Please join us in thanking all these community members and businesses for their continued support and advocacy for the arts. Your patronage encourages the arts and fuels our inspiration!
Read more about our Arts Patrons
#silverstagestrong #findingpoe #theatrelife #poeandpints
Meet SSP's Resident Dramaturge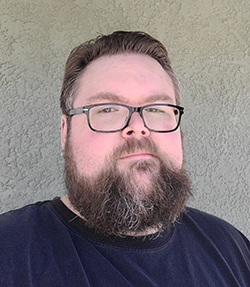 Josh Webster is a playwright, fiction writer and professor currently living in Pahrump, NV. His work has appeared in long and short form on various stages and he is a 2022 recipient of a Nevada Arts Council Artist Fellowship in Literary Arts. He received an M.A. in English with an emphasis in creative writing from Wayne State University and a PhD in English with an emphasis in creative writing from The Center for Writers at The University of Southern Mississippi. After serving as a lecturer at North Dakota State University in Fargo, he has since worked as an English Professor at Great Basin College in first Elko and then Pahrump where he teaches composition, creative writing, literature and film courses.
Follow Us on Twitter
Follow @poeandpints
For Information and All the Dish
For more information on how to attend Poe & Pints or how to become a sponsor, contact Director Derek Burwell at (775) 397-3256 or by e-mail at kroythecs@yahoo.com or information@poeandpints.org. More information can be found at www.poeandpints.org or www.silverstage.org.
#silverstagestrong #findingpoe #theatrelife #poeandpints
"Quoth the Raven...Nevermore!"